Award Winning Persian, oriental and specialty rug cleaning
AREA RUG CLEANING SERVICE
CURRENT DISCOUNT
FOR AREA RUG CLEANING
Maximum Of $50 OFF per household
Cleaning in our specialized facility
Dye and Fabric Assessment
Final area rug hand grooming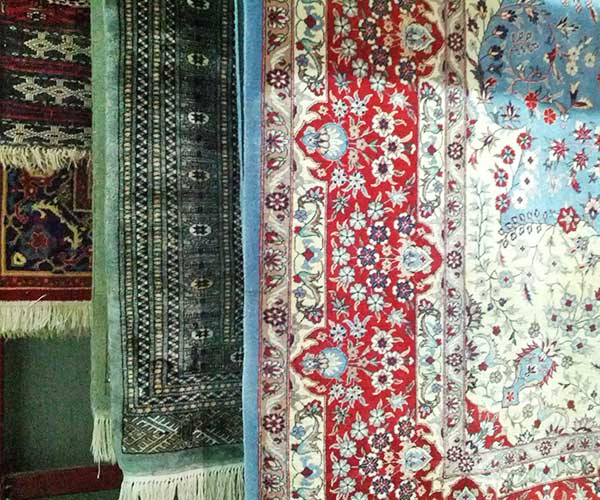 Terms and Conditions / Common Additional Charges
25% OFF regular list price to a maximum of $25 per home. The minimum call is $ 99. Offers can't be combined. Prices do not include GST and Waste Handling Fee of $21.45. Some restrictions apply – call for details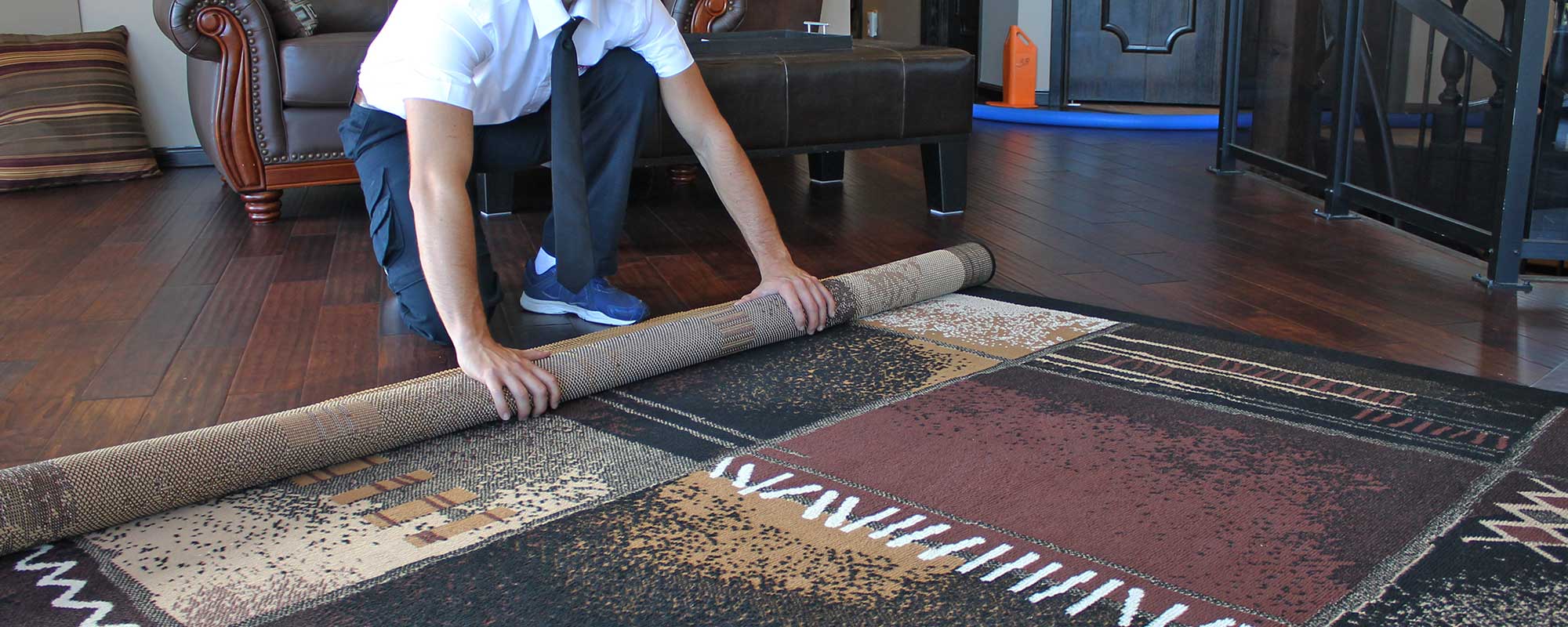 Expert Area Rug Cleaning
When it comes to area rug or oriental rug cleaning, we take the time and attention your area rug deserves. Our special area rug cleaning facility is equipped with full-spectrum lighting and special drying racks to make sure that your area rugs are cleaned and dried properly.
Our process includes the use of a thorough industrial-strength vacuum of the area rug from both sides prior to cleaning to remove trapped dust and debris, treatment of concern areas with our range of specialized spot and stain removers as well as the same high power hot water extraction (steam cleaning) that we use on the carpets and furniture in your home.
We clean most types of area rugs, including wool area rugs and a range of synthetic fabrics. In addition to  cleaning, we also offer the following additional treatments for your area rugs: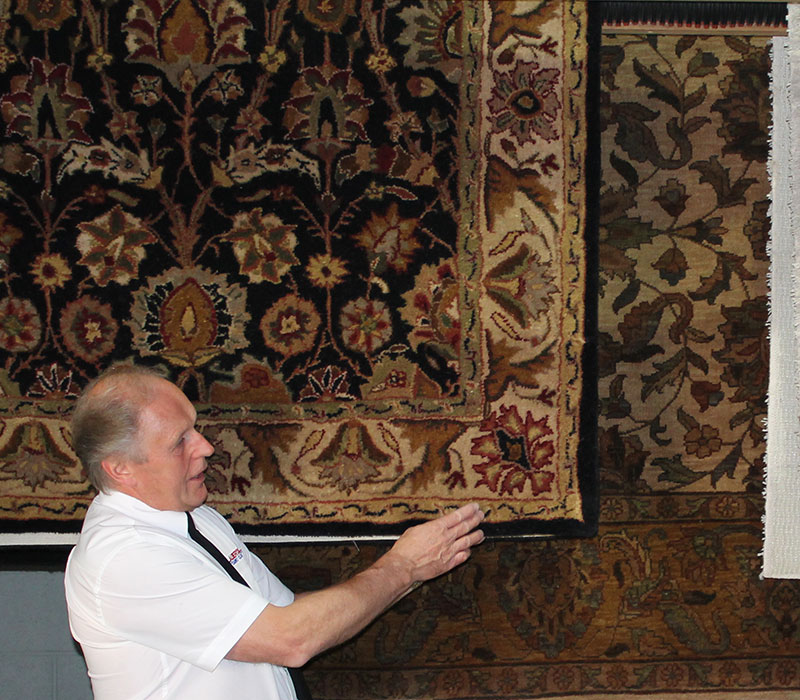 Our professionally certified carpet and area rug cleaning technicians, many of whom have been with us for 10 years or longer, bring experience and expertise into your home to make sure the job is done right. We are IICRC (Institute of Inspection, Cleaning, and Restoration Certification) certified, and all of our technicians are full-time permanent staff, not inexperienced seasonal or temporary employees.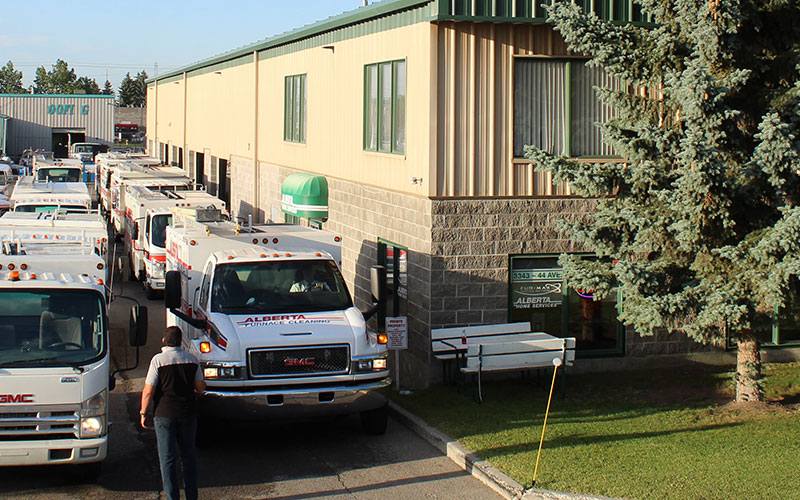 Protect your Area Rug
Area rug cleaning is essential to the upkeep of specialty area rugs. With time, these precious rugs can deteriorate losing their value and original splendor. This is why we have a special facility dedicated to your area rug. We have specific treatments and methods for each type of area rug.
At Alberta Carpet Cleaning we understand the importance of proper area rug upkeep and cleaning, we have the most extensive industry experience in Calgary and the area. Our area rug cleaning technicians undergo very extensive training by top North American area rug specialists.
Our signature 7-step area rug process:
1. Assessment.
Upon arrival at your home, our technician will fully inspect your area rug and go over any areas that may have presented pre-existing problems. We will discuss our findings with you and ask any questions we have regarding your area rug. This will ensure that you receive your desired service and outcome.
2. Dust and Debris Extraction.
This is a crucial step and is often skipped part of rug cleaning (by less experienced providers). In order to achieve pristine area rug results you first have to take out the dust and dirt.
For example, one 5×8 area rug can hold approximately 4 pounds of unseen dirt and dust, that a standard vacuum cleaner would leave behind. Without proper extraction of these particles, your area rug could be left with irreversible damage and subpar results.
3. Colour and Dye testing.
Dye testing is a very important and detailed portion of the cleaning process. Each color is tested for stability and for the quality of the dye. This will ensure that your area rug's colors, will not bleed out nor run together, this will also ensure the colors of your prized area rug remains vivid and fresh.
4. Expert Cleaning.
This is where we combine the old world care and system with new tools to create a specialized area rug cleaning system. In our specialized station; the rugs are cleaned down to the bottom of the fibers providing a complete and thorough clean.
5. Drying.
The rug drying process tends to be the most time-consuming portion.
6. Final inspection.
After the carpet is dry the fringes and rug are inspected for any spots or stains that may need a finishing touch.
7. Grooming.
The rug is groomed and rolled up for delivery
FAQ
Frequently Asked Questions
AREA RUG CLEANING QUESTIONS
There are many factors to take into consideration when trying to decide on cleaning your area rug such as the amount of traffic, whether there are pets in the home, the vacuuming schedule and whether you have spots or stains.
We recommend them annually especially if they are frequently used. If anyone suffers from allergies you may want to consider more frequently such as twice annually.
It takes a great deal of expertise and attention to detail to treat a valuable piece properly, so we at Alberta Carpet Cleaning have perfected our treatment process over the past 30+ years.
First, the rug is closely inspected by technicians to determine what type of soil has penetrated the fibers. They look at every stain, and worn area, and if there are any particular concerns like pet odor or mold.
Once the technician learns everything about your area rug through the inspection process, the piece is run through a dry soil removal process.
The wet treatment process is done with a machine that goes across the surface of the area rug. The flooring is agitated to dislodge embedded soils, and gentle detergents are used to pick up soil and wash it away.
We use a powerful yet gentle to fabrics type of extraction equipment. When done, the area rug will then be hung for several hours to dry completely, during which time the technician will perform a secondary inspection to verify that the treatment process is complete to full satisfaction.
It takes a great deal of expertise and attention to detail to treat your valuable rugs, so we at Alberta Carpet Cleaning have perfected our treatment process over the past 30+ years:
Complete assessment of area rug ( front and back);
Thorough vacuuming with our specialty vacuum of the area rug to remove dust, dirt, and grit;
Test the dyes and fibers for cleaning solution tolerance;
Pre-treatment of spots or hard-to-remove stains;
Injection of hot water mixed with a green cleaning solution;
Dwelling time – cleaning solution is allowed to work loosening dirt and residue;
Gently agitate the fibers;
Fringes are hand cleaned;
Soft water Thermorinse extraction;
Depending on how soiled the piece is, it may need to be cleaned and rinsed more than once;
Carpets are hung on rollers to dry thoroughly;
Rugs are manually groomed and prepared to be returned to the homeowner.
Area rugs are often made of special fabrics and dyes that require special attention. Each type of fabric has usually very special indications on how to clean it to preserve its natural beauty.
Most commercially available products could harm the fabrics by either having the dyes run or mix and/or lose the original sensation of the fabric.
Most area rug manufacturers recommend having an area rug cleaned by a professional service.
Cleaning the area rugs in our facility gives us the opportunity to apply several treatments providing deep thorough cleaning and controlled drying. We use various tools and procedures which are imperative to a successful rug cleaning.
It is not safe to clean area carpets over other floorings as there is the risk of damage to the surface underneath the carpet being cleaned. If the area rug remains wet for too long, your hardwood or laminate flooring may show signs of water damage (i.e.: warping, staining, and/or discoloration).
There are other costs associated with cleaning rugs not found in typical carpet cleaning. To start, we have to pick up and deliver the rug as we cannot safely clean it in your home.
The procedure for testing and cleaning is much more time and labor intensive and the care that must be taken to detail clean them takes longer than a wall-to-wall installed carpet. We have to charge more to cover our additional costs.
Let's define the difference between a spot and a stain:
Spot– is any foreign material (soil, liquid, etc.) that is removable by standard cleaning methods.
Stain– is foreign material (soil, liquid, etc.) on the carpet that is not usually removed by standard cleaning methods. (The foreign material has penetrated or "soaked into" the fiber and has altered the color or damaged the fiber). Some stains may be difficult or impossible to remove.
Our technicians are trained and qualified to examine stains to let you know which ones will come out and which won't.  They will then do everything they can to try to correct the problem.
We can only provide an estimate over the phone as we are unable to determine the exact size, fibers, and condition of the rug. Once the technician has completed his assessment we can determine the pricing.
Alberta Carpet Cleaning offers a specialized area rug cleaning facility that is equipped to deal with almost every type of area rug. Our soft water Thermorinse extraction system is the ultimate cleaning service that will guarantee a clean and restore that 'brand new' feeling to your area rug.
Our expert area rug cleaning technicians have years of experience in the industry and routinely undergo training by the industry leaders in area rug cleaning and care.
We usually can take care of most area rugs (80% of cases ). However some area rugs due to low production quality ( i.e. – 'IKEA' rugs) or very rare fabrics are out of our reach.