MediClean® Carpet Disinfectant
Hospital Grade Carpet Disinfectant
MediClean® Hospital Grade Carpet Disinfectant is a water-based non-flammable ready-to-use product, which gives protection against germs, odors, mold, and mildew. It kills bacteria and viruses ( see covid-19 ) and it is effective when used as directed in decontaminating bedding, mattresses, upholstered furniture, rugs, and carpets. It controls mold, mildew, fungus, and odors wherever they are a problem.
Optimum conditions for the growth of most molds on the carpet and other surfaces are dark, damp, and warm. These conditions often arise from poor cleaning habits, use of some commercially available solutions, and improper ventilation ( especially after cleaning ).
Besides the deterioration of the fabrics and consequent potential health hazards, these 'growths' tend to smell and make indoor living spaces less than pleasant.
Not all odors are caused by bacteria and mold. However, in its formula, MediClean® Carpet Disinfectant contains also an exclusive odor counteraction mechanism that is effective on food and other non-bacterial related odors.
This is why we say that MediClean® is your best investment after carpet cleaning.
Add it from only
$ 35
/ per 200 sqf.
+ GST & Enviro Fee
MediClean® application prices vary according to the room and area. For more details ask one of our associates for an exact quote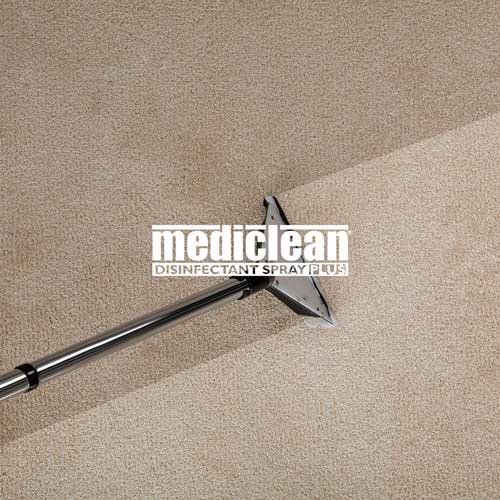 Uses to contain COVID-19 spread
MediClean® Carpet Disinfectant is proven to be a broad spectrum disinfectant and kills viruses it comes in contact with. Carpets can be uneven surfaces and while the agent might not reach every fiber of the carpet, it is still a great addition to contain the virus as it covers the vast majority of visible surfaces in carpets and upholstery.
Carpet Disinfectants should not be used instead of health and safety guidelines as directed by health officials, provincial and federal authorities but rather as an additional step that can be taken to prevent the spread of COVID-19 indoors. Please refer to Health Canada approved guidelines on how to protect yourself from the sars-cov-2 virus and the COVID-19 illness.